Okay, so my BFA project went up Monday. It was a huge relief to have it up and done and looking decent. We had a fun open house show opening that let people come and browse the projects and mingle with the artists.
My project was branding (logo, letterhead system, store items like employee badges, shopping bags and some interior design-style sketches), signage (signs for the alphabetical listing system, wayfinding signs to point shoppers to different sections of the stores, in-store marketing posters) and packaging (for things like a journal and t-shirts) for a bookstore that specializes in comic book collections, also known as graphic novels or trade paperbacks. The store's name is Wordballoon and it's the kind of comic bookstore you wouldn't mind being seen coming out of. It's not a comic-book store so much as it's a comic bookstore. Make sense? Anyway, here's some pictures.
The whole of my project as seen from across the mezzanine of the Spori building. I had about fifteen feet of wall space and filled the ever-loving heck out of it.
A shot of my collateral as well as some other branding items like a shopping bag and an employee badge for an employee named... Chris!?
A close shot of my letterhead package. It's the only part of this project that I worked on from the beginning right up to the end. I am never touching it again.
Alphabetical and wayfinding signage. The alphabetical signage was taken from word balloons from scans of comics. They're printed on this great stock from French Paper Company.
This picture brought to you by the letter "P": poster, (t-shirt) packaging and process book (it has all my notes from the project) as well as a framed alphabet sign.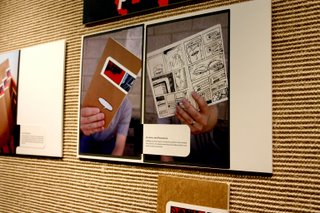 Packaging and presentation board for a journal that the purchaser can doodle comic strips in. To illustrate this I did a little two-pager (my first actual comic strip! Yeah for me!). It was really fun (the strip) though I effectively ruined it in inking. Oh well, practice makes perfect, right?